Teaching world to sing - as one
McGill program; The goal: live opera in cyberspace
By CATHERINE SOLYOM, The Gazette - February 20, 2009 3:01 AM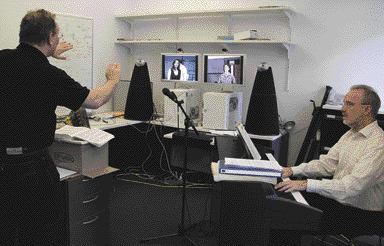 It ain't over till the fat lady sings - and turns off her computer.
An ambitious experiment at McGill University is trying to bring live opera to cyberspace, through an unlikely pairing of engineers and classical singers.
In this case, the "fat lady" is the rather svelte Andrea Long - and she's just getting started. She's performing the role of Violetta in Verdi's La Traviata in one room, while Alfredo, Violetta's admirer, sits in another and the pianist is down the hall, all connected by state-of-the-art speakers and webcams.
The idea is to simulate what it would be like if each were performing in different countries simultaneously over the Net for millions of spectators.
The World Opera Project, the brainchild of Norwegian historian and opera aficionado Niels Lund, who was also on hand for the experiment Wednesday, hopes to be able to broadcast such an online opera by 2012.
For the engineers, the project is about serving the artists' technological needs.
But opera's jump into 21st century technology would also provide lessons for less challenging cyber-endeavours, improving everything from video conferencing to telesurgery, said Jeremy Cooperstock, an engineer with McGill's Centre for Intelligent Machines.
The key is diminishing the delay between sending and receiving sound and visual data, he said.
"We chose to work with music because it's the most demanding kind of application in terms of pushing the technology to its limits," said Cooperstock, a self-described opera ignoramus.
"We thought, 'What about telesurgery?' But according to surgeons it's not so difficult. They can easily deal with delay - they just slow down. But musicians can't do that. They can't slow down the tempo."
Conductor Niels Muus said the project is about updating a traditional art form for new audiences.
"Ideally, classic opera scenes belong in a theatre," said Muus, who travelled from Vienna to be part of the experiments.
"But if the art form is not to become a complete museum, we have to develop it into this individualized computer world that we live in."
The experiments build on other efforts to broaden the audience, including the Metropolitan Opera's live satellite broadcasts on cruise ships.
"We're always trying to find ways to make opera more sexy," said Nicholas Laroche, a graduate student in music.
"So this is another way to bring actual opera music to people and still give us jobs."
csolyom@thegazette.canwest.com
© Copyright (c) The Montreal Gazette