Automated Door Attendant: User-Side Interface
The ADA greets the user with an image of a 3D-modeled human face and presents four choices: viewing the professor's schedule, leaving a message, starting a videoconference session, or browsing documents. The agent's voice and appearance are designed to encourage visitors to converse using natural speech. Speech being an optional input modality in the ADA, the user is free to navigate the system solely using the touchscreen.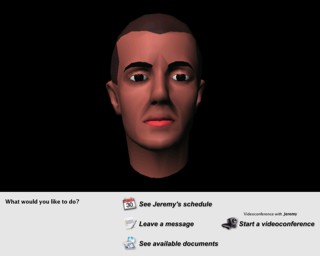 If viewing the professor's schedule, the user may create appointments and leave written or video messages. The second menu item offers visitors the additional choice of recording messages without making an appointment. The videoconference option allows a student to initiate a live session with the professor participating from a remote location. Finally, the document viewer launches a web browser displaying the professor's website.

Last update: March 20 2005 (Michael Perez)